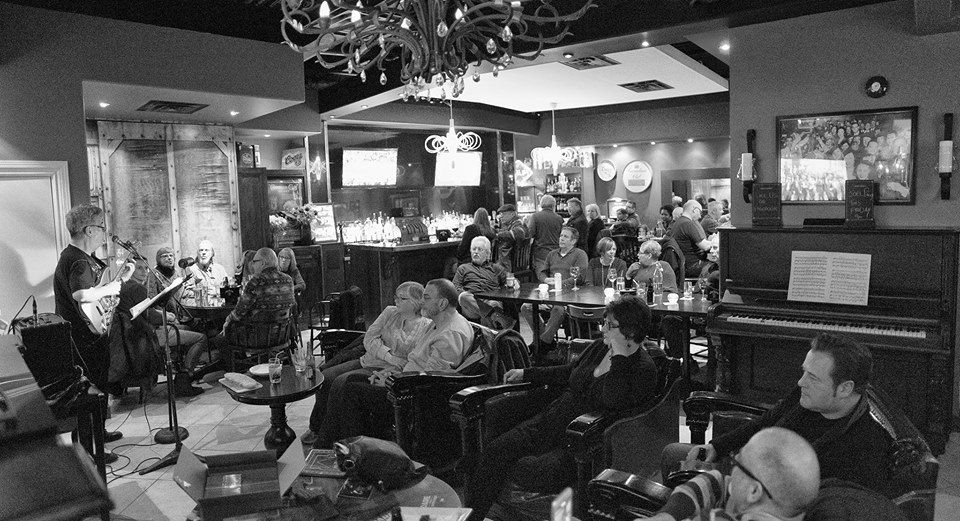 Speakeasy, Photo Sixbyseven
SPECIAL EVENTS, CLUBS, CONCERTS, PRIVATE FUNCTIONS...
 Every show delivers! Original music or chart topping hits!  
From black tie to blue jeans Kyle can put together a great set of rock, R & B, soul,  jazz  and more....
Kyle Pacey plays clubs, banquet halls, private parties, corporate events, weddings (cocktail or full reception). Always a crowd pleaser Kyle Pacey performs as a Solo act  (Guitar and vocals or full instrumental), Duo or Full Band can include bass, drums or percussion, brass and / or keyboard.   
Helen Graham Presents: "Beautiful blues voice with power!"   
Every show delivers! From original music to chart topping hits!   
FESTIVALS, CLUBS, HALLS...  
Hollywood Troubadour, King's Landing, Corktown Pub, Spice Factory,  Carmen's Banquet Center, Al Dente, the Artword-Artbar, Pour House, Brownies Downtown,  Cesars Windsor,  Baltimore House, Copper Kettle,  Dundas Odd Fellows Lodge,  Corktown Pub, The Speakeasy, Nina's Bistro, Acoustic Blend, Moonshine Cafe, John Paul II Polish Cultural Center, Niagara Casino, Buddy's Roadhouse, Gore Park Promenade, Waterdown Music Fest,  Mississauga Grand Banquet Center, Polish Combatants' Association, Two Doors Down, Jackson Square Rooftop, Nina's Bistro, Molson Ampitheater, Lincoln Rotary Wing Fest, Burlington Rib Fest, The Bunny Hop and Seek hosted - Concession BIA, Ronscesvalles Festival, Synco Music Festival, Roc'N'Docs, Sidewalk Sounds, It's Your Festival, Michelangelo's, Hamilton City Hall...